December 25, 2012
British Virgin Islands General Information
The British Virgin Islands (BVI), a part of the Leeward Island chain, are located in the Caribbean Sea, approximately 1100 miles southwest of Florida, USA.  While only about 8 miles east of St. Thomas and just north and west of St. John in the U.S. Virgin Islands, they are a world apart – the BVI are typified by a quieter, more rural lifestyle. Tortola is the main island and the main city is Road Town.  The airport is located on the east end of Tortola (Beef Island) and is principally served by commuter airlines from San Juan, Puerto Rico.  Tortola can also be reached via ferry from St Thomas, USVI. Access to other BVI islands is by private boat or scheduled ferry. Currency is the US Dollar.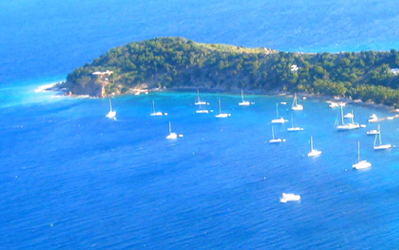 Cooper Island Details and Island Living
Cooper Island, a typical BVI out-island approximately 5 miles across the channel from Tortola, is an idyllic place to live or visit.  We are, however, off the power grid and most necessities are self-contained and provided on-site. Cooper can only be reached by boat and there is no regularly scheduled ferry. Charter boat service is available.  There are certain things characteristic of island living that guests should be aware of and take special care with while at Quart-A-Nancy Point. A short summary of these can be found on our "How It Works" page.  Our property manager will brief you further regarding these items on arrival and an instruction booklet will be available at the house providing additional details.
Cooper Island Flora and Fauna
Cooper Island has a variety of Flora and Fauna.  We have an indigenous goat population that will eat anything and everything.  This causes severe erosion problems on the property, thus we ask that guests tightly close access gates when entering or leaving.  You may see the feral cats – these are wild animals, not pets.  Small lizards and geckos may be seen both outside and inside the house.  Though they may sometimes startle, they are completely harmless. You will probably hear the hermit crabs scrambling around behind the house (clicking shells) or see them at the outdoor shower.  They scavenge anything left around.  You will notice the large cactus plants with green, pencil-like branches around the property.  When broken off, these ooze a white, milky liquid.  This is a skin irritant and really stings if you get it in your eyes.  Please be careful to avoid these, and if you should get some on you, rinse immediately with water.  Finally, please note that as we're on a desert island, we do occasionally see small scorpions.  We've been told that "they are not poisonous (unless you are allergic)" and we've heard that "their sting is no worse than a honey bee".  You have to hunt for scorpions as a rule, usually under rocks and other dark, quiet places, but watch for them just in case and avoid them if you see them.